Ideas

Hello everyone,
We're looking at different ways we can improve the profile pages on Furry Network, to try and meet people's needs better.
As we all know, your profile page is your "identity" on any site, and needs to represent you and what is important to you. The current profile page doesn't work well to fulfill that goal - most of the space is spent on "what small action did you perform on the site most recently" - and is too much social network, not enough art/creative site.
I'm working with our interface designer to come up with some mockups of an improved profile page, which has interchangeable modules you can embed on your profile page - and need your input: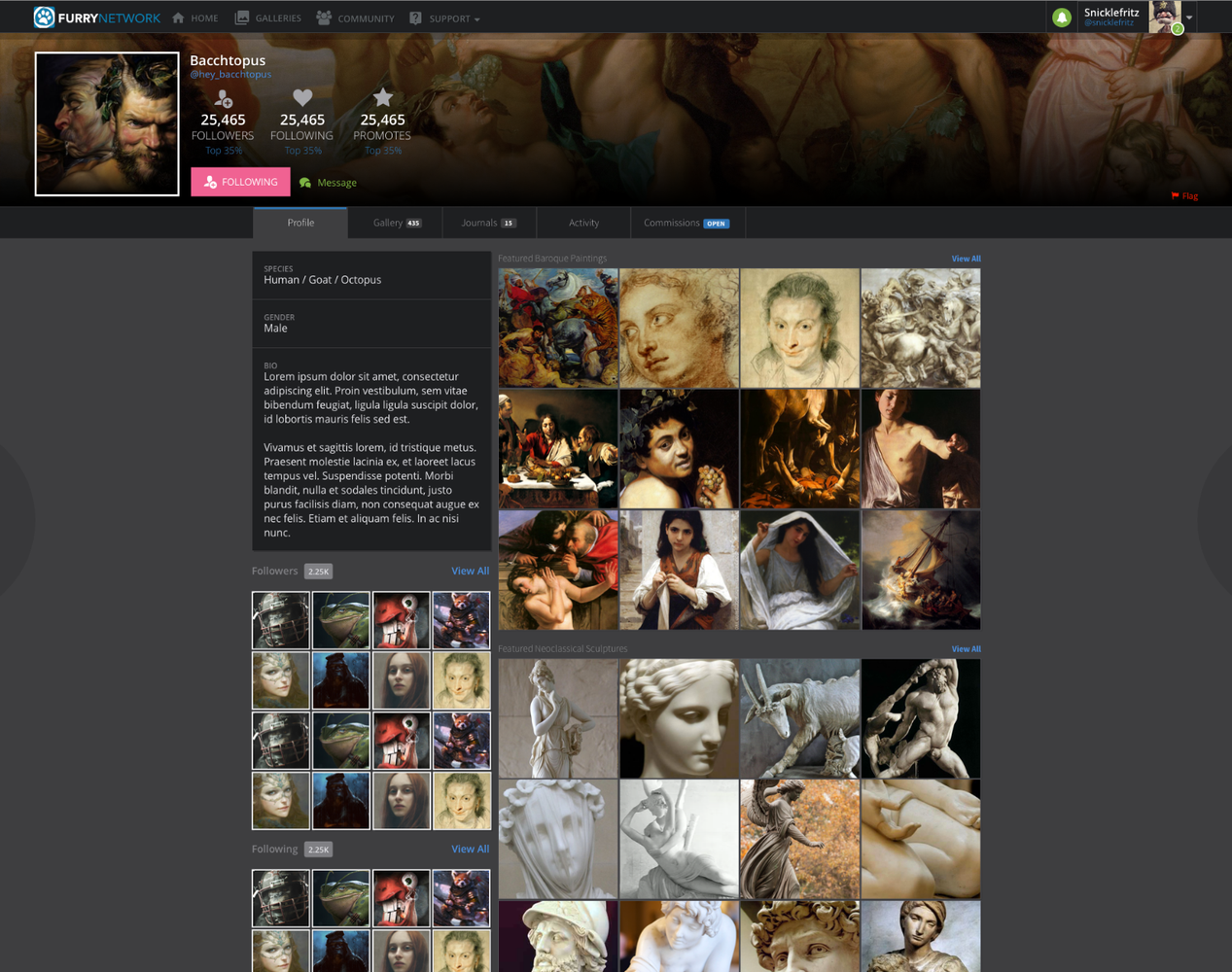 1) First of all - is this on the right track? Is this heading in the right direction?
The modules we're thinking of including are intended as 'feature blocks' you can use to set up your page however you'd like - so say you mainly write stories, you'd put the "featured stories" block near the top - if your page is heavily character/commission oriented you'd put one big image at the top (like a featured submission), and a description box below it with a bunch of Markdown formatted text in it. Note the edit button:

This "edit button" would bring up the following interface for picking what to show: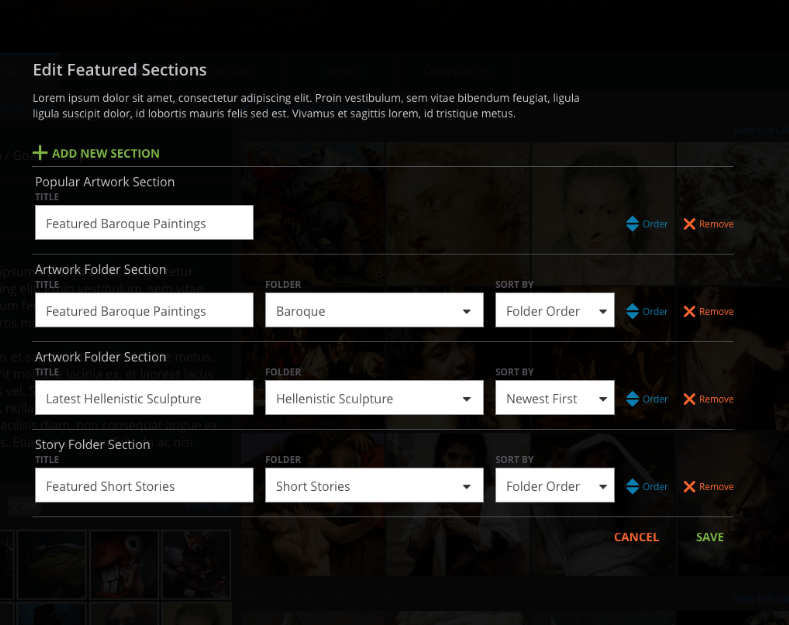 This leads into my next question:
2) Are these "modules" a good solution for the site, in particular to give flexible but not too complicated customization, to let users tailor the page to their needs?
3) What modules would be most important to include initially? Are these on the right track, or should we be considering something different? So far we have:
3A) A "Featured Artwork" module, where you can pick a folder to display, a sort order, and a number of rows/items to display. Eg if 1, it'd show one big image - if set to 1 row, it'd show 4 pictures... and so on.
3B) A "Featured Story" module, similar to A but for written submissions
3C) A "Journals" module, similar to B, but for posts/journals
3D) A "Markdown" module, which would basically be a big text box you put markdown in, and can customize to your heart's content
3E) A "Gallery/Favorites/Recent whatever" module, very similar to A, but which is automatically populated based on something directly on your profile - for example, your promoted artwork (think "Favorites" on other sites, long-term), or your most popular artwork in your gallery, or your most recent submissions or whatever.
3E) Has been split into two: a "Recent Artwork" gallery module, showing stuff you uploaded recently, and a "Favorites" gallery module, showing items you faved/promoted recently. (Assume there'll also be modules down the road for recent multimedia, audio and stories).
3F) A "Social" module, which can show your recent tweets on your profile page - like this: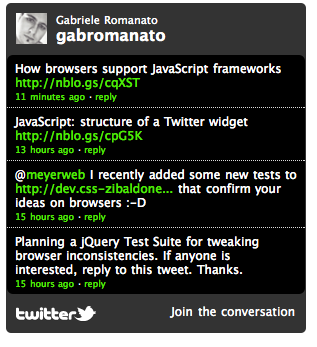 4) We're toying with the idea of putting all content a user creates into a single "Gallery" tab, and moving the split between the kinds of content on the left hand side along with the filtering / sorting options. In my opinion, this looks pretty busy - but what do you all think?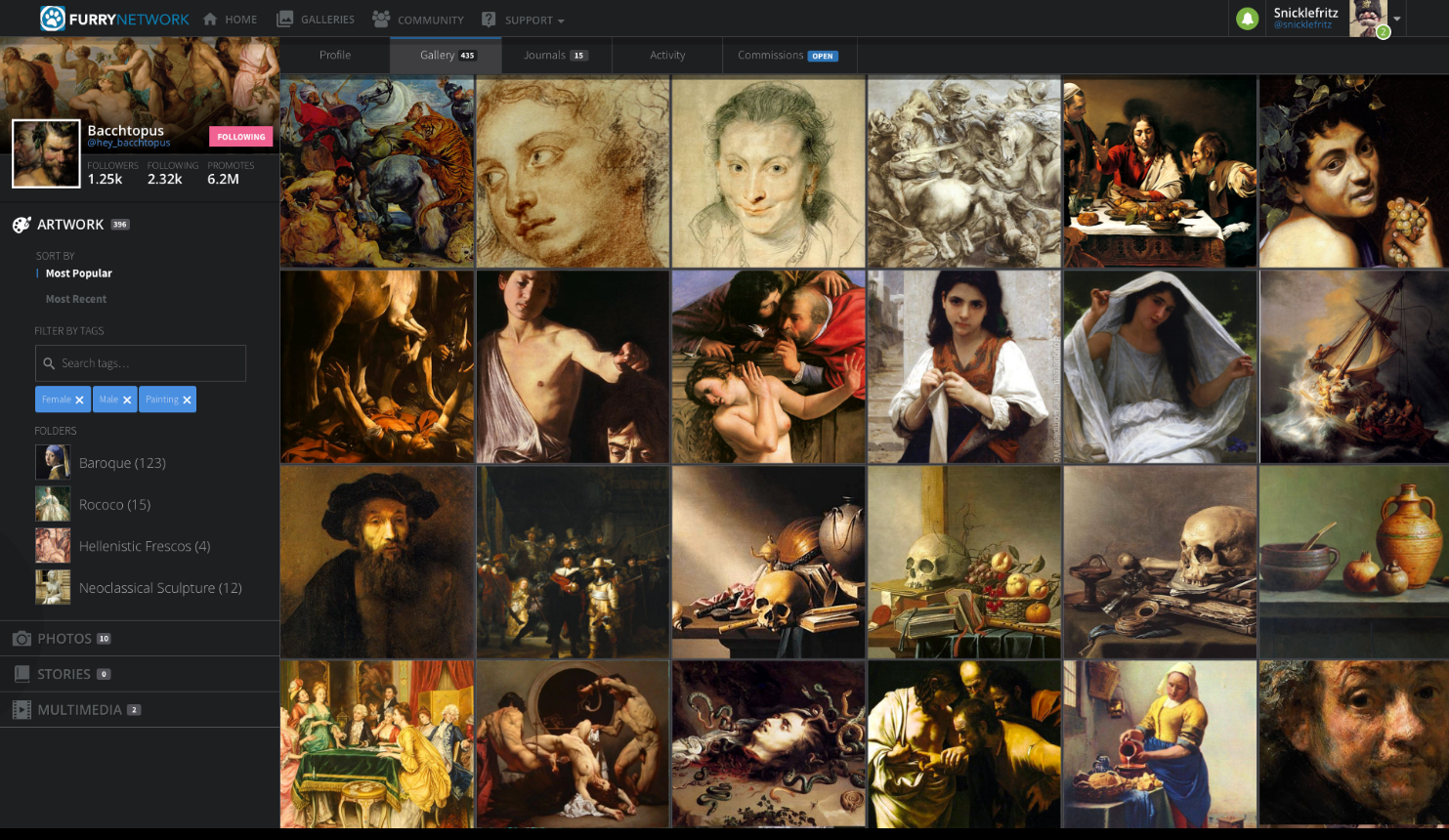 There's a lot here in this one "Suggestion", but I think this is the best way we have (right now) to get a discussion going and some useful feedback on how we can refine this to better suit everyone's needs.
Please post your thoughts and suggestions - and be sure to reference the number of the item you're discussing, so it doesn't get too confusing. As always, be constructive! We want to make FN better and need your help.
Thanks!
Varka