Ideas

To be blunt, I feel this site is too bloated with 'modern aesthetic' and it interferes with actual functionality.


I'd rather my inbox not have a black gradient over the bottom of every thumbnail and that the images just load without motion or fade. It slows the site for no added benefit beyond 'wow look what we can do'.
Additionally, application of UX web design would help a lot.
Currently:
Clicking the name in the top left, clicking my own name in the top right, as well as 2 "what's new" buttons that ALL lead to the same place. While submitting an image is 2 clicks (any 'rival' sites I can think of use 1)
There is an all in all easy solution to this, in my eyes.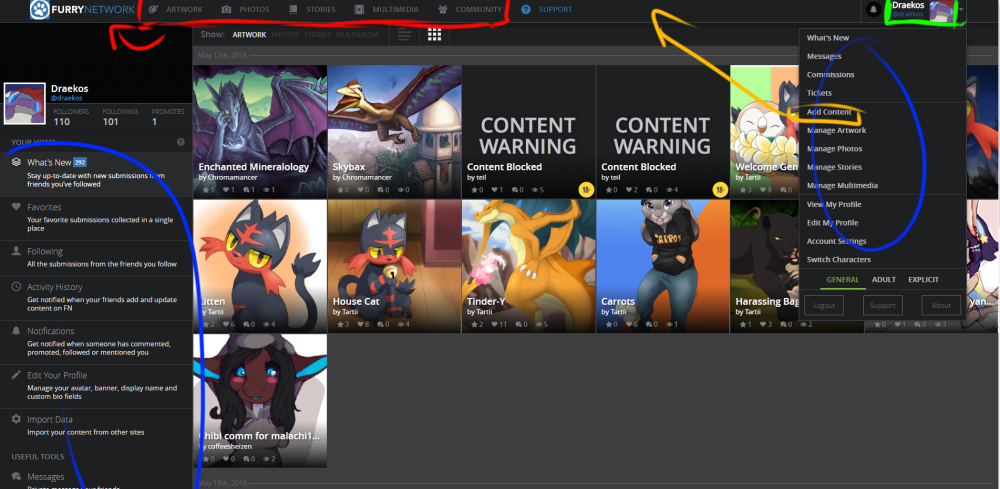 Red: Make clicking on the site name take us to the site-wide listings. Clicking a websites name taking you to a non-personal homepage seems more intuitive than your inbox. You already have a secondary bar for filters, surely this can be used on the 'front page' too yes?
Yellow: Move 'Add Content' to the main bar, along with a 'What's New' button if you really want?
Blue: I realize this is only for your inbox screen, but it feels extremely, almost pointlessly redundant. This one I do not have an answer for right now; but I feel the left side menu's space could be better used somehow.
Green: Clicking this should take you to your own profile. Like mentioned above, this feels like simple intuitive design. Perhaps make the arrow on the right larger and a unique element?
As a side note, the popdown list of 'related' suggestions that you need to click a specific button to remove also feels a little forced. Clicking off the Header entry bar anywhere else on this page should dismiss that. Then again, that seems to be a common trend with any support form system.
All in all, this site has potential, but I feel like we're getting more fancy than function. Being able to opt-out for the superfluous visuals would be nice. And more care for navigational efficiency feels very needed.