Ideas

So I ran into this this morning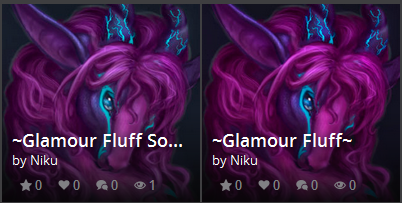 The thumbnails aren't indicative of the difference between these two submissions (there's a minor color tweak, but so what?)
But the submission name is indicative of the difference. The problem is, I can't read the full title! No amount of hovering over the thumbnail, the title, or any other portion without opening the link will show that full title name: "~Glamour Fluff Soft~"
Ah! Soft! Yes, I see now, the edges have been softened and the colors muted slightly.
Given that some artists put content warnings in their submission titles in order to warn "hey, this content might be inflammatory" at the end of the submission name, e.g. "Getting His Dues (warning: gore)" this inability to view the full title is a failing of the grid view.
FA handles this by using the span's title attribute (I edited the html just to get something that was long enough to exceed the span's maximum size):